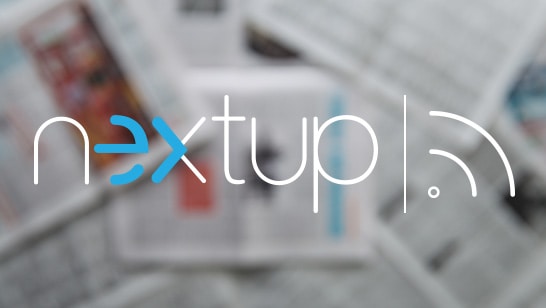 Nextup Launches New Brand at NADA 2016
FOR IMMEDIATE RELEASE
ANAHEIM, Calif., Mar 24, 2016 (BUSINESS WIRE) — Nextup, the automotive industry's first cloud-based sales, and traffic management solution, has transformed their brand to speak to all verticals looking to improve performance management. As a leader in the automotive industry, Nextup has established itself as an authority in assisting companies to enhance customer experience and increase sales through technology and analytics. "We are a known commodity in the automotive industry, but our sales management solution has proven effective across any sales environment where one to one consultation is employed," said Clint Burns, Founder, and CEO of Nextup. "Nextup delivers visibility, improves sales productivity, and fosters a positive guest environment. This is the essence of what our new brand exemplifies."
The updated brand is a welcome change to Mark Stringfellow, VP of Sales for Nextup, "Our new brand now more closely aligns with the lean and efficient solutions we provide. Today's buyers demand accelerated purchasing experiences. Companies looking to yield higher closing ratios need to monitor and benchmark transaction times for speed and efficiency. Nextup clients are able to do this easily and are seeing results in sales, higher gross, CSI, and positive customer satisfaction reviews."
The new brand is being debuted at the NADA Convention and Exposition as well as across all aspects of Nextup's environment including a redesigned website, marketing collateral, and an additional office in Dallas, TX.
The rebranding comes after an enormously successful couple of years for Nextup, including multiple awards such as the Inc. 5000 list of fastest-growing private companies in America, a 2015 AWA Sales Process Award win, and being highlighted by Microsoft for their cloud technology.
"We feel so humbled by what we have been able to accomplish with our clients and partners," said Burns. "Thank you to everyone who has been a part of Nextup's success."
To get a firsthand look at the new Nextup brand in action, please visit www.thenextup.com or stop by booth 6113 at the NADA Convention and Exposition, March 31- April 3, 2016, in Las Vegas, Nevada. Sign up for a demo before the show and you could win a Louis Vuitton Purse and wallet.
If you can't wait to learn more, please sign up for a demo or join us on our webinar on April 21 [st] where we will discuss Efficiency + Productivity = Increased Revenue.
About Nextup:
Nextup is one of the fastest-growing technology companies in the sales and traffic management industry. Founder Clint Burns and the team are deeply rooted in sales management and have created a traffic management solution that has helped some of the most profitable organizations in the country grow their sales month after month. For more information on Nextup, please visit www.thenextup.com.
Media Contact:
Abe Romero
Director of Marketing
Ph (214) 501-5085
aromero@thenextup.com