As Nextup's VP of Sales, Mark Stringfellow talks to dealers and dealership staff every day. One of the first things he discusses is the "manager intro" by asking what their process is. "I'm usually pleased to find out that the manager intro is part of the process, and sometimes even more pleased to find out that it's mandated from the top down," Mark states. "The problem is that some managers don't get involved until it's too late – as the customer is walking out the door."
Early manager introductions are key to strong closing rates. Nextup has the real data to prove it! These stats are aggregated from all of our partner dealerships over a one month period of time: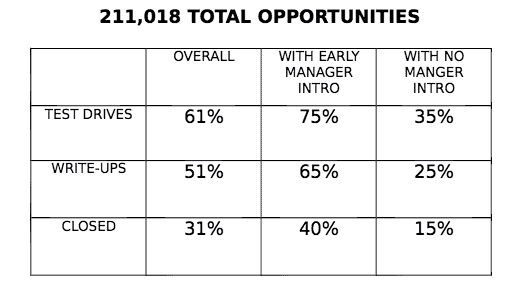 Our best-performing dealership customers look at the manager intro numbers every day. Because they don't lie.
Learn more about our reporting by emailing Mark at mstringfellow@thenextup.com or
schedule a demo
today