Scott Shipley, one of the heads of Nextup's Product team, helps rebuild that perfect match between veteran dealership and new technology being adopted at their stores.
"We live in a society exquisitely dependent on science and technology, in which hardly anyone knows anything about science and technology." Carl Sagan
It's Valentine's Day, that wonderfully manufactured, marketing marvel that has us professing our love to one another via chocolate and flowers. With that in mind, we wanted to focus on our automotive friends who feel they're too old to embrace new technologies that are constantly being introduced to their dealerships. Age is not a number friends, just a mindset. You have evolved with technology for years, and while it's evolving at a dizzying pace, you've always hung in there.
Lately though, you can hear yourself starting to say, "I'll just let the younger team understand that platform" or "That's not going to impact people my age". This Valentine's Day we want you to learn how to fall in love with technology again. It's critical for those senior automotive professionals out there directing (and mentoring) dealership teams to continue to champion the vision of the store.
You've come so far
Don't stop evolving now. Just because you started to go to bed at 8:30 doesn't mean you can't rekindle that passion for technology and make a commitment to continue to evolve. To prove to you that you're still capable of expanding your technical education we've built a list of achievements you may have forgotten all about.
1. You learned how to use your Smartphone.
2. You understand how to operate the in-dash console of the demo you're driving.
3. You've downloaded movies to your tablet for a flight, all by yourself.
4. You got off AOL and now use GMAIL.
5. You have a Facebook account, and use it.
6. You have used the Starbucks app and earn stars. Maybe you even order ahead now?
7. You know how to pull money out of the ATM at the Indian Casino.
8. You built your own "My List" on Netflix.
9. You used the kiosk at the airport WITHOUT assistance from staff.
10. You "vape" instead of smoking a pack a day.
11. You play fantasy football instead of calling your bookie.
12. When standing in lines now, you stare at your phone, just like the kids.
13. You've "Skyped".
14. You finally stopped typing everything in ALL CAPS in emails and texts because of auto correct.
So much to celebrate!
Your list of accomplishments is almost as long as the time that has passed since you last stepped into a high school classroom. You can do this! So, on this Valentine's Day, fall back in love with technology. Don't let an opportunity to learn something new pass you by. Understanding the technical backbone driving your store's success will ensure you can lead adoption, top down. Find a new app or platform that might benefit your dealership, pull it tight to you to, close your eyes and kiss it hard on the mouth. Actually, scratch that last point, it's kinda weird…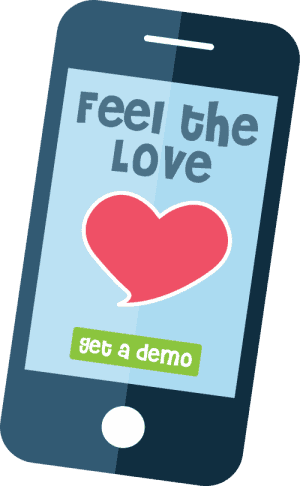 Need help falling in love with technology?
Schedule your Nextup Demo.