As we approach the second half of 2017, we have seen lower car sales being reported month over month. Kelley Blue Book dubbed 2017 the "DOWN YEAR" in automotive and projected a continued decline saying,
"June will be yet another down month of sales with expected declines in both fleet and retail."
Some Are Calling It a Flattening.
This is not a "head for the hills and batten down the hatches" kind of problem. Yes. New Car sales are expected to decrease as much as 4% by the end of 2017. But those numbers are still barely below 17M Units.
If we look at historical trends, sales seem to hold steady right around the 16M unit mark. Sure, 2015 and 2016 brought in some GREAT numbers. It was like shooting fish in a barrel. People were ready to buy and deals were closing hand over fist.
Now, we are seeing the market just even out little bit.
Auto and Light Truck Sales Historical Chart
Don't Get Flattened
While you might be making it work, overflow in dealership lots and a lower than expected profit might leave some a little uneasy about how the year will end.
My mother used to say, "When money is tight, you count your beans one by one."
Translation: You can't afford to miss a single opportunity.
Data shows that, on average, only 54% of lot customers are making it into your CRM. This isn't new data. We've been saying it over and over again. But, it's the simplest way to start finding money you already have in your dealership everyday.
Finding Those Opportunities
The first step is setting up a process that holds your team accountable. Maybe you currently have processes in place but management isn't enforcing them. Maybe the current process isn't working.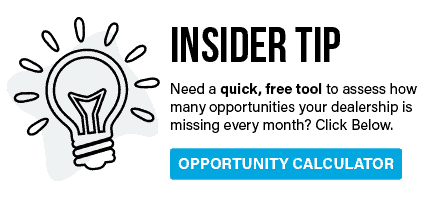 Whatever the case, now would be the time to reevaluate those processes and get everyone on the same page to ensure every opportunity that comes into your dealership makes it in to the CRM. (I hear there's an app that can do that)
Do a Quick Audit
NADA Data established the 4-3-2-1 rule. This says that if 4 customers walk in, 3 will test drive, 2 will be written up and 1 will close. Nextup's 30Million Data points show that to be true. The national closing average is about 25%.
Chances are, if your closing rate is significantly higher than 25%, you are missing opportunities in your store.
Luckily, we've built a tool for dealers interested in a quick audit of where their store falls and the potential Gross Profits they could be missing out on. (Get the Free Tool HERE)
When the management team over at Dolan Toyota put this tool to the test and started holding their team accountable for every opportunity, they were able to find over 1Million a year that was being left on the table.
Would 1 Million a year make a difference in your bottom line? Of course it would.
So the market might be in a little bit of a decline. So what. It's not the time to panic. It's just the right time to tighten up your processes, look into technology that can create complete accountability and keep your team and dealership on track to end the year right.
In good times bad habits are formed, in bad times good habits are formed. It is time to get a jump on the good habits.
In the coming weeks we'll take a deeper dive into those habits and what your dealership can do.