Anaheim, CA, Feb. 2, 2017 – Last week, Nextup was recognized by the Automotive Website Awards for excellence in Sales Process for the third year in a row.
Award recipients in this category have gone above and beyond to enhance, both, the online and in-store sales processes. This year, not only has Nextup continued to be a critical process for dealership sales staff, but they have enhanced their platform to create more efficiencies in the Finance Department as well. Additionally, Nextup has redesigned the user interface so that a dealership's KPIs can be easily evaluated at a glance.
"Although our product is simple, we have found it is a solution that addresses the concerns that dealers, sales staff and consumers have. Our goal is to seamlessly integrate into the culture of a dealership and provide management with accurate KPIs to enable successful decisions." – Clint Burns, CEO, Nextup.
Nextup is a Managed Retail Sales Process (MRSP) which assists dealerships in monitoring and measuring team performance while ensuring effective customer engagement in the showroom. This solution helps maximize workforce potential; improve customer satisfaction; and provides real-time analytics to shed light on the opportunities missed.
"When I first introduced Nextup to my sales staff 9 years ago, they were skeptical and believed they would be missing opportunities. Now they embrace it as a tool they can't live without. Nextup allows the salesperson to be two places at once. He's on the floor rotation but making his follow up calls." – Scott Brewer, Pohanka Lexus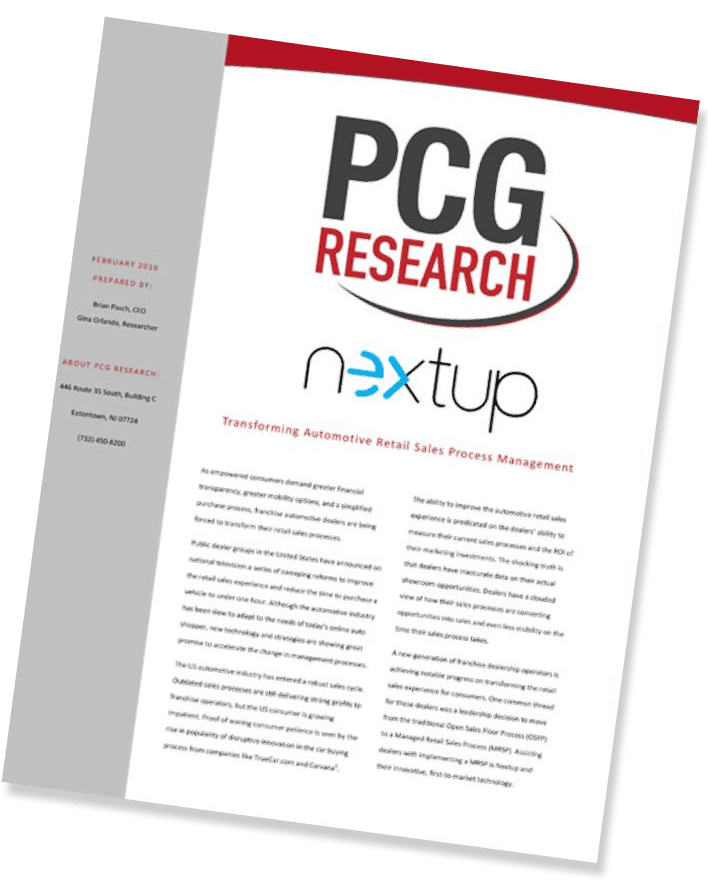 Are you assessing your current sales process?
Download the free product excerpt from the 2017 AWA Research Report & Buyers Guide to help you get started.
About Nextup
Nextup is one of the fastest-growing technology companies in the sales and traffic management industry. Founder Clint Burns and the team are deeply rooted in sales management and have created a traffic management solution that has helped some of the most profitable organizations in the country grow their sales month after month. For more information on Nextup, please visit www.thenextup.com
If you would like more information about this topic, please contact:
Jessica Hezlep
Marketing Specialist
214.501.5085 ext. 402
pr@thenextup.com