Proven Solutions
Nextup's Opportunity Management System was created to help you and your staff give every opportunity the attention it deserves. It's simple to use and works with all departments.
By implementing this system, you can increase staff efficiency, improve time management, and create accountability.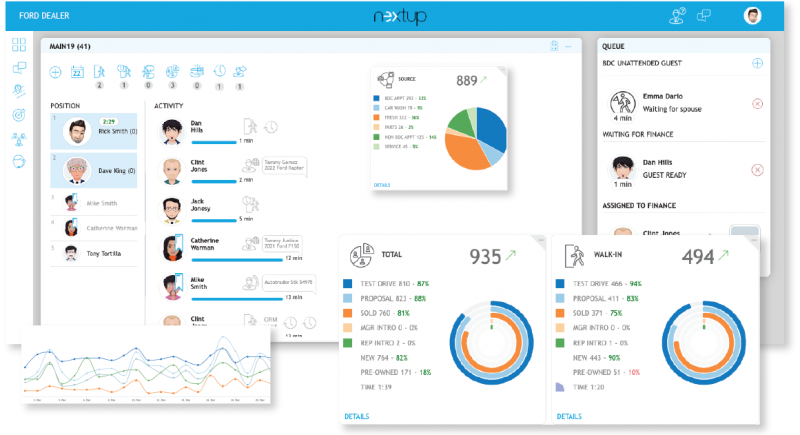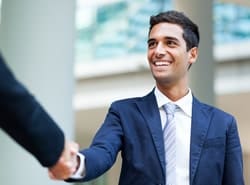 Meet and Greet
Customers begin their experience with one prompt, professional greeting, not multiple, leaving them less intimidated and more open to doing business with you.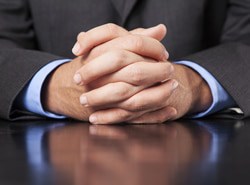 100% Attention
Staff stays focused on their highest-closing customers (appointments) without being worried about missing walk-ins.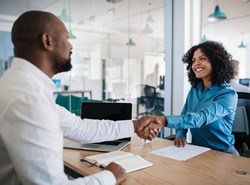 Manager Intros
Visibility into early manager intros every time builds better rapport with customers.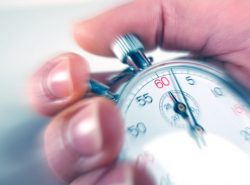 Speedy Experience
A more organized process will create a speedier experience for your customers, bringing more referrals and repeat buyers.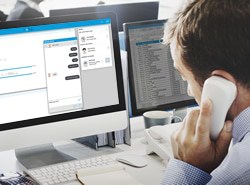 Follow Up
Customers needing phone or email follow-up are not kept waiting or wondering because staff has dedicated time to do so.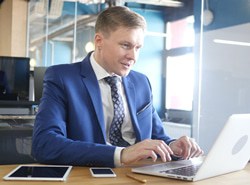 Clarity and Visibility
Staff always know when they will be on point, and when they have appointments, keeping them undistracted and focused on follow-up.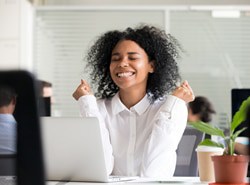 Rewards
Aggressive staff who focus on setting appointments are rewarded with more walk-in opportunities.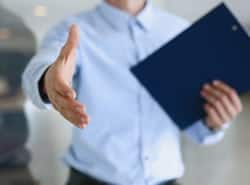 Manager Involvement
Staff can easily and quickly request manger assistance without leaving their customer.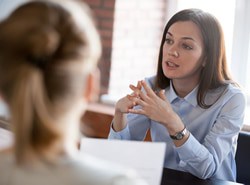 Better Coaching
When process performance falls below expectation, it's immediately caught, allowing for quick coaching and improvement which leads to more staff success.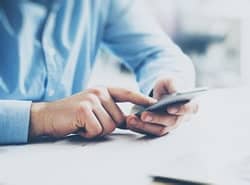 Mobile Access
Staff can access the system from anywhere in the business, including 2-way messaging with other staff.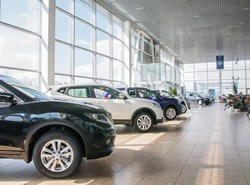 Proper Coverage
Ensures all customers are greeted promptly and professionally. By knowing your busiest days, times of day, and managing staff lunch schedules, your floor is always covered.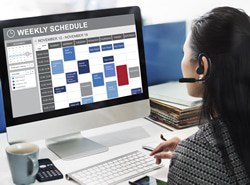 More Appointments
Encourages staff to set appointments, benefiting them as well as the bottom line of your department.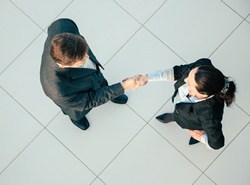 More Customer Intros
Always know exactly when to initiate an intro with customers, improving staff performance and increasing closing rates.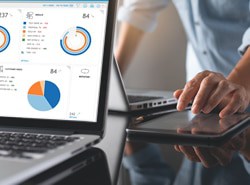 Be In-The-Know
Have full visibility into scheduled/shown appointments, deliveries, be-backs, walk-ins. No more guessing or hoping that everything was logged into the CRM.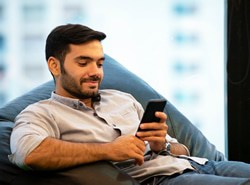 Mobile Access
See everything that is happening with your staff and customers in real-time, even when you aren't there.
Nextup throughout your business
hover over

below to find out more…
hover over

below to find out more…
best in landscape view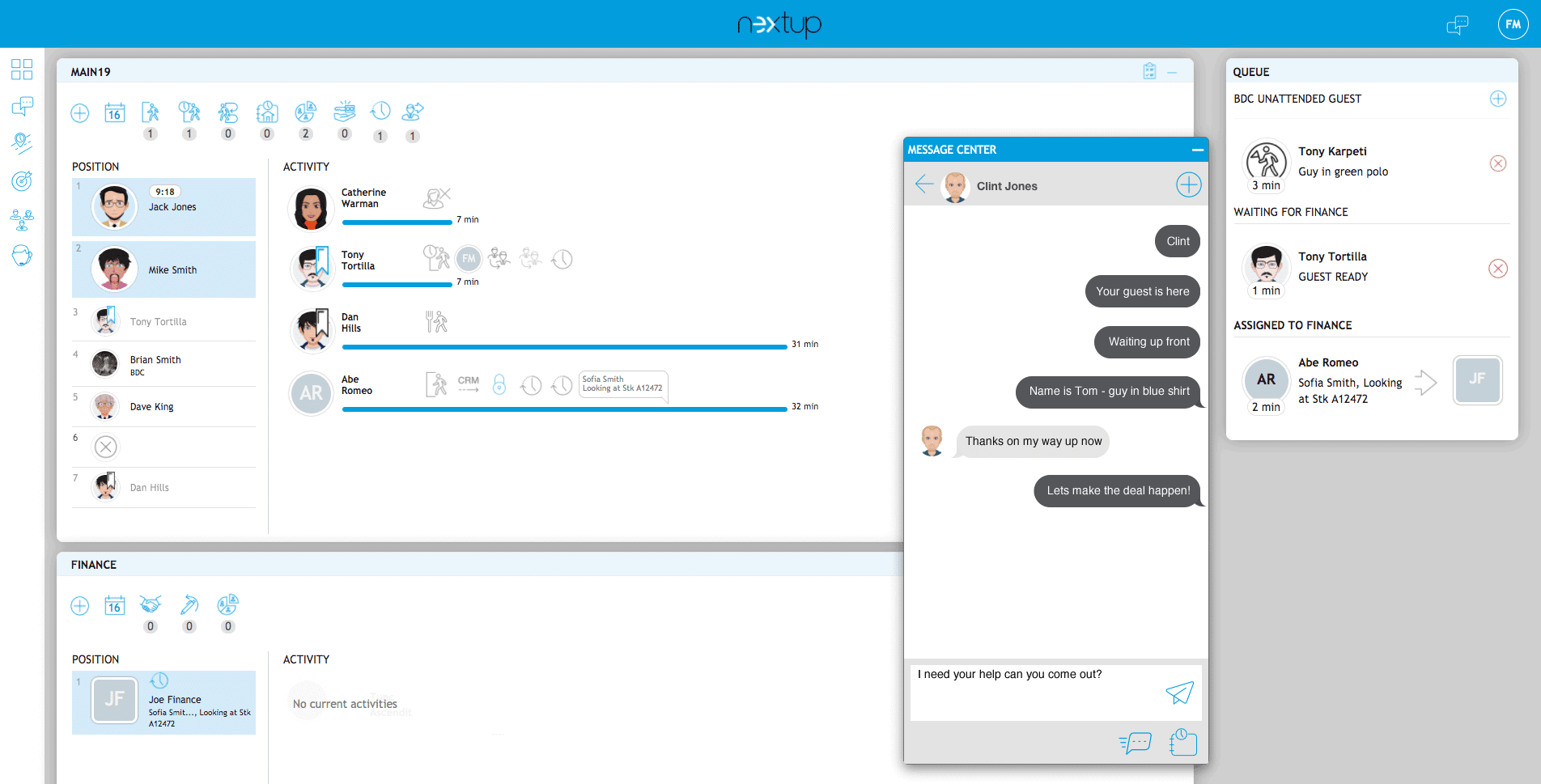 Scoreboard
A quick view of how many customers have been greeted in-person today by opportunity type; including walk-ins, appointments, be-backs and even off-site appointments
Position List
Quickly view the list of queued staff who are positioned to meet guests.
Activity List
View the list of staff who have been marked with an opportunity, and where they are in the process.
Power Rotation
Set the amount of time staff is required to cover the point. Staff rotates automatically once time is met with no walk-in guests.
Position Float
Reward staff who book appointments by allowing them to continue to progress up in the queue (until they reach a specified position) while they assist scheduled customers.
Position Freeze
Lock staff members in position when out to lunch, on a call, or any customized reason.
Dashboard
See all the analytics in an easy-to-read dashboard, including time, percentages, and comparisons. Easily review and send reports to yourself and team members.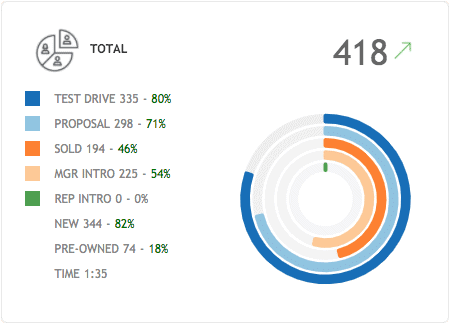 Introductions
Easily record when a customer is introduced to another rep.
Lunch
Automatically remind team members to take their lunch break based on shift, and easily identify when they do.
CRM Integration
Send opportunities to your CRM to ensure 100% of your traffic is included in your follow up process.
Activity Lock
Prevent staff from progressing further in the process prior to completing specific steps.
Comments
Add comments about each opportunity (description, customer name, stock number, etc.) or simply add a status.
Wait List
Be aware of how long your customers are waiting for a department or to complete their transaction.
Message Center
Easily communicate with a team member, or an entire team. Send, receive, schedule and save messages.
Unattended Guests
Know quickly when you have unattended guests in your business when you are short on staff.
Manager Introductions
Allow staff to request manager assistance when needed.  Manager are then alerted of the request and can accept.
Alerts
Alerts sent to mobile devices when staff move positions, are with opportunities, and when tasks need to be completed.
Manager Notifications
Get notifications at the right time in the deal to have the most impact.
Scheduled Events
Staff can schedule future appointments and deliveries that can be marked as completed upon guest arrival.
Assign
Auto Assign, Blind Assign, Manual Assign, Multiple Assignments to additional Staff or Departments.
Message Center
Communicate in real-time with your entire team simply and quickly.  Message delivery to all devices.
Frequently Asked Questions
How long are your contract terms?
No long-term contracts here.  We only have month-to-month agreements.  This holds our services and team accountable to achieving results.
How many people are dedicated to our account?
You get access to our focused team, consisting of a performance manager, trainer, and a full support team.
Is Nextup a customizable solution?
Yes, because we understand that each of our clients is unique with their own processes in place. We also iterate regularly based upon suggestions and requests from our partners.
How quickly can we get started?
Our standard on-boarding process is within 10 to 15 business days.  This might be able to be expedited based on your needs.
How do you communicate results?
Our team will schedule monthly calls to discuss and review reporting, best practices and ideas to keep you focused on your goals.
How do we get our team engaged in the process?
We will do a full two-day implementation of the process to get your store kicked off and when needed we are available to do refresher training along the way.