TOTAL FLOOR COUNT

Obtain accurate traffic counts via kiosk and mobile platform for your sales, service, and finance environments to ensure every lead counts.

TRUE PERFORMANCE MANAGEMENT

Nextup performance tracking provides insight into how your team is doing. Easily identify areas to improve the sales path for optimum results. Guarantee your team is following company best practices.

IMPROVE STAFF PRODUCTIVITY

Assemble your team into an efficient sales engine. Nextup prepares your team to engage with customers via notifications. Now your other team members can focus on follow up, setting appointments, and delivery.

MAXIMIZE MARKETING ROI

Get insight into your marketing spend real data. Know which campaign is working to get new customers through the door.

REDUCE TRANSACTION TIME & INCREASE PROFITABILITY

Nextup tracks customers' engagement across all departments. Pinpoint bottlenecks and improve wait-times to help increase profitability and CSI.

CUSTOMIZABLE AND SCALABLE

We strive to ensure our system follows your existing process so the implemenation is smooth as possible. Create the customer experience you desire.
Sales Team
Don't Miss an Opportunity

Capture All Traffic Flow

Satisfy Your Customer

Elevate Engagement & Experience

View Personal Performance

Fine Tune Your Approach

Team Communication

Request Manager Involvement

Log Test Drives

Track & Measure Success

Discover the Gaps

Quickly Identify Areas to Improve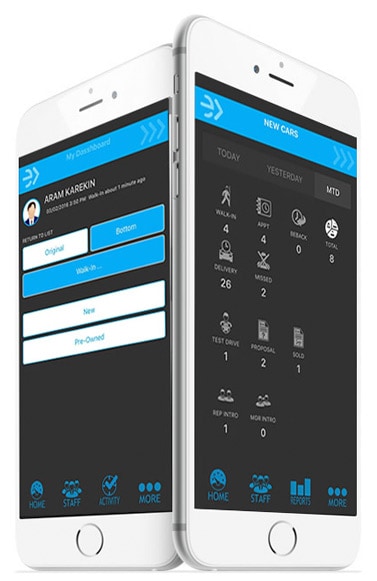 Management Team
Maintain Visibility

Ensure Staff Accountability

Customer Engagement

Monitor the Customer Experience

Staff Notifications

Manage & Direct Team

Measure Performance

Increase Efficiency & Productivity

Monitor Test Drives

Ensure Staff Safety

Reduce Transaction Times

Refine & Expedite the Sales Process
With Over 26 Million Showroom Transactions, Our Numbers Don't Lie
Nextup is here to provide answers. How can we help?
In two words, "the truth". In detail, I got a virtual "bundy clock", a "time and motion" data warehouse, a best practice database median, an Up System, and a non-fiction coaching tool. I knew what every consultant was doing at any given time. With smartphone access to real-time floor traffic anywhere in the world, for the first time ever, I actually knew exactly how many guests were visiting, every day! I would have no hesitation in recommending this to any dealer who is committed to a process managed showroom anywhere in the world.
What a tool! Nextup is a game changer. Manage your traffic, your sales team and the down time.
I love this thing!
Award-winning
We've helped countless dealers. You could be next.

The choice of market leaders worldwide