How We Survived 10 Years in the Automotive Space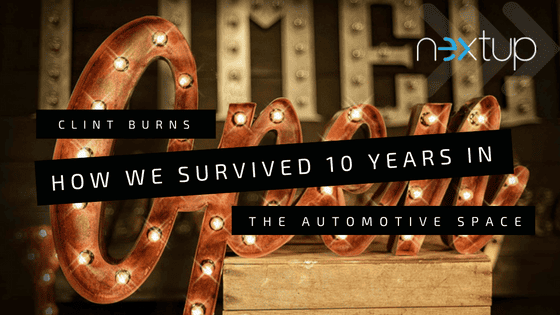 January 2017: celebrating Nextup's 10th anniversary
Nextup CEO, Clint Burns, talks startups, tech evolution and a decade dedicated to dealers.
A whole decade, wow! How did this whole thing come about?
It all started with a simple request.
One day a General Manager said, "Figure something out about that," as he pointed to a group of sales staff huddled by the front door. What we were witnessing wasn't an efficient use of time. We knew that the CRM was only successful if, one, the sales reps logged customers into it and two, if they had time to properly use it as intended. Up Systems were not new in our industry, but we recognized that combining proper automotive business logic with the technology was.
Our challenge was to allow sales staff to confidently work follow-up or their tasks at-hand, while never missing an opportunity. To create accountability and increased value of each opportunity, while seamlessly integrating into the rapid pace of the industry. Since that fateful day, Nextup has continued to grow, innovate, and evolve:
We have evolved from application-based software residing in bulky hardware, to partnering with Microsoft in 2012 and building (from the ground up) a fully cloud-based mobile platform
We went from having a client-base of local southern Californian dealers, to servicing and supporting dealerships throughout US, Canada, and Australia
Being named one of Inc 5000's fastest growing companies for two years in a row
Being nominated by one of our clients for an AWA Award in 2015, for which we won, two years in a row
These are just a few reasons why I'm even more excited about the next ten years!
So, how did we stay motivated through the last ten years in an industry resistant to change?
It's because we care deeply about automotive. We believe that dealers can offer something vastly superior to their current experience. We know it can be done better, and we are going to prove it to the world.
Over the past ten years, companies supporting dealers have come and gone. With the potential for big acquisitions, many companies have been popping up with the sole intention of building a customer base that they can sell it off at a multiple. While walking through a recent trade show, I overheard a conversation of vendors discussing what needed to be built in their offerings so they would be purchased. More concerned about the exit then what was best for the client.
That's not us.
If Nextup is in for the long-haul, what can be expected over the next ten years?
Nextup will continue to evolve with the industry. We are excited about the launch of Transact, our finance department solution, and Maintain, for the service department. We are already proving to streamline and enhance both of those departments in the coming months. This year we will be releasing a new mobile application, and a completely new dynamic platform that allows each dealership to create their own unique customer experience and transition between departments seamlessly.
Any final words of reflection?
I would like to thank everyone who has been directly or indirectly involved in the success of our company. Most importantly, I want to thank the dealers (whether they are customers, or not) that have a long-term vision of doing good business now and into the future. I want to thank an industry that over the years has given me so much. I am passionate about developing new technologies and processes that can benefit the industry staff just as much as the consumer.
WANT TO LEARN MORE ABOUT NEXTUP? GET YOUR DEMO TODAY!