Want to Streamline Sales to Finance Transitions for Your Guests? You Can.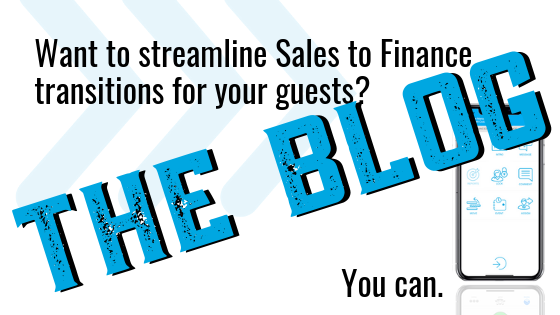 There's a great blog over at 
F&I and Showroom magazine
 by Ron Reahard. It's was simple primer put out at the start of the year to help F&I departments achieve "spectacular results" in 2019. None of it is over-complicated and the blog lays out five areas to focus on:
Ensuring you have enhanced product knowledge.
Demonstrating genuine enthusiasm about the products you offer.
Believing in those products. (Some overlap with the earlier point)
Setting Attainable Goals for yourself and your department.
Caring about your customers, your team members, and the dealership.
Everything Ron communicated in this blog is spot on. A smart F&I manager will put these to work and have a solid foundation for a favorable customer experience.
Since January we have seen the market flatten, so that may mean for some F&I departments traffic and overall revenue generation is slowing. If this is happening at your store, are you looking to this list above to keep consistency? Is department morale down and staff are settling into working as individuals rather than with the rest of the team?
Going into the F&I department can ruin the experience for many in their buying journey at the dealership. Long waits for "less than enthusiastic" F&I team members, cherry-picking deals are always going to be elements of a negative visit.
The current market may be pressuring the F&I team in regards to their performance goals and are now trying to pack deals and are becoming overly aggressive with customers?
So while the list at the beginning of this article is a great start, we feel that all dealerships need to look at the positives along with negatives happening for the F&I department in order to thoroughly activate positive process, accountability and profits. It's been proven time and time again that a managed sales retail process can be very effective for any dealership willing to build a better customer experience. However, that process working in the showroom can quickly stop as customers are being transitioned into working with an F&I manager. If we know that a managed floor can work wonders for one department, relieving of many pain points of the customer journey, why wouldn't we consider it for the Finance department?
Stream-lining your finance team to a rotation process can drastically reduce wait times for an F&I manager and remove bad habits that may be creeping in due to markets or traffic. Salespeople can best manage guest's time in store if they see that the F&I managers are all busy with customers, using wait times to bring them through their new vehicles tech package or making key introductions to the service department. More visibility to where every member of both teams are and who they are currently attending to will bolster the store's profits and customer satisfaction.
Ron's points for a successful F&I department are spot on, tie it all up with an F&I team rotation, one synced with the showroom and you really start to see "spectacular results".
Want to streamline Sales to Finance transitions for your guests? You can.