Why Your Service Department Needs an Up System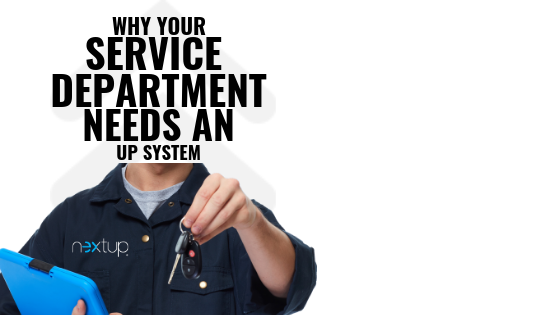 It's no secret that your dealership's biggest profit center is the Service Department. However, with the state of the current market, more dealers are relying on the Service Department to balance out shortfalls they're seeing in the showroom. If the focus is ensuring that this area of the dealership continues to be profitable, it is worth the time and investment to deploy an Up System for the Service Advisor team
We know what you're going to say, "Up Systems are for the showroom, the Service Department has always had a greater level of organization based on how customers have to interact with that staff." How often though are we looking at just the ROs and the gross profit per transaction and ignoring the customer's experience? Sure, you're going to get your CSI scores back but are you taking those and looking to improve your department's process?
In our 12 years in developing, enhancing and deploying Up Systems for dealerships across North America we know, based on over 30 million data points, the organization and analytics they provide can drastically increase profitability. So, wouldn't you want that same advantage for the Service Department that an Up System has given the showroom? Our customers asked us just that and we have evolved our platform beyond the showroom. Here are two questions to help you assess the efficiency of the Service Department and why you should consider adopting an Up System and process for your Service Advisor team.
   How good is your Service Advisor team's process? Start simple and quickly audit the department's current process. Does your Service Department function as a professional service advisory team or as individuals each abiding by their own level of competency and not necessarily putting the customer first? Do your advisors take adequate time to work with a new guest, produce complete ROs and have the time to follow up with customers in the waiting room or remotely? With so many moving parts, look for areas where things bottle-neck or guests may not be worked as you wish.
   Are you introducing new customers to the service department team during vehicle delivery? Building better relationships between departments increase both sales and CSI. Are both your sales and service advisors ensuring that customers get proper introductions a part of the delivery process? Richard Truett of the Fixed Ops Journal reported that only 41 percent of buyers of new and used cars were introduced to the service department when they purchased their vehicle. Of these customers, 53 percent said that introduction was a factor when they decided where to take their vehicle for service. Customers who were shown the service department were 1.5 times more likely to return to the dealership for service in the 12 months after purchase.
Profitability can increase in the Service Department through training, monitoring, and mentoring. Adopting and leveraging a Service Drive Up System can elegantly tie all those pieces together and strengthen the team's overall performance and enhance your loyal customer's ongoing experience. Flatter markets are a great time to re-evaluate your processes and people, small strategies, like bringing in an Up System can be very helpful.
Want to ensure your Service Department continues to be a strong revenue center for the dealership? You can. We invite you to visit https://thenextup.com/maintain and learn more about our Service Up System.
Click here for Richard Truett's full article in Automotive News.